Lifestyle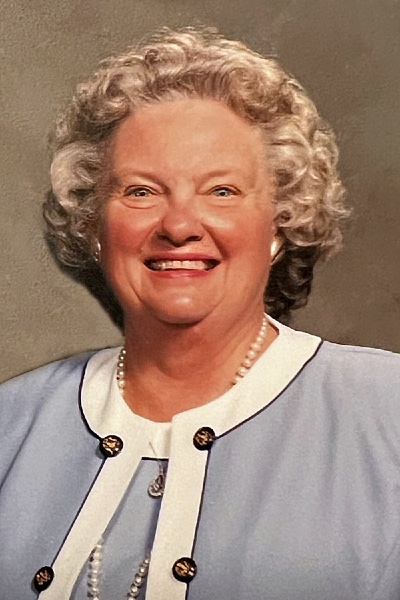 Eleanor Hayes: a loving servant of the Lord
Caroline McNeely, Staff Writer
She is not just a name on a campus building. She was a wife and a mother and continues to be an example in her legacy of joy and love that she left behind.
Even being 98% blind and developing dementia didn't stop her from exuding joy, peace and love. 94-year-old Eleanor Hayes, wife of the late Joe Hayes Sr., peacefully passed away in her home on Feb. 4, 2023.
The Hayes family has been supporters and family to North Greenville University since the mid-60s and because of their kindness and generosity, their legacy continues. Four buildings on North Greenville's campus are named in honor of both Joe and Eleanor Hayes: Hayes Fine Arts Center, Hayes Ministry, Hayes Gymnasium and the Hayes Rose Garden. Each building is a reminder of the name that has blessed generations of students.
Eleanor Hayes, wife and mother to the Hayes family, developed dementia and became blind in her later years. Assistant Vice President in Athletic Development, Micah Sepko, said, "She had this peaceful spirit to her that you'd like to be around and like to talk to. Even though she wasn't even aware who you were, she knew you were there, but she couldn't see you. She knew you by your voice. She had a really sweet spirit to her, very humble."
Hayes was a mother to five children, one being Joe Hayes Jr., named after his father. Joe Hayes Jr., Eleanor Hayes' 72-year-old son, had the chance to sit next to his mother in the last days of her time here on earth and carries out her legacy today.
"She was very loving. She had a beautiful smile, everyone talked about her radiant smile. And she had a great laugh," Joe Hayes Jr. said. Even being 98% blind and developing dementia didn't stop her from exuding joy, peace, and love.
Joe Hayes Jr. said, "Even with dementia, when she would pray at the mills, she had a straight line to God. You wouldn't know she had dementia." Her sweet, Christ-like spirit was remembered by those around her.
With her blindness and dementia, Eleanor Hayes had a caretaker around the clock and many people would read books and the Bible to her. Joe Hayes Jr. was able to read the entire Bible to his mother in 2020 through a series of devotions he wrote for her months before that year.
Hayes loved God and her actions always reflected it, but her husband was the one who led her to the Lord. Eleanor Hayes and her husband Joe Hayes Sr., took their family to every church event or service. Not only were the Hayes family servants to the Lord, but servants to friends and neighbors. Eleanor Hayes was known for taking food to the sick, hungry or grieving family in her neighborhood. When someone was in need, Eleanor Hayes was there to serve them.
The servant-hearted attitude runs through the Hayes family. Eleanor and Joe Hayes Sr. have been donating portions of money to North Greenville for about 60 years. Neither one graduated from North Greenville, but Joe Hayes Sr. became a trustee years ago that led them to know more about the school and begin to believe in it.
"That's why a lot of the buildings at North Greenville are named after them [Eleanor Hayes and Joe Hayes Sr.] because they donated heavily. They knew where it came from, and they knew it wasn't theirs. They knew it was God's and they were just stewards of it, and they taught us that," Joe Hayes Jr. said. To this day, Joe Hayes Jr. can continue the Hayes family legacy at North Greenville by donating from a trust fund set up by his parents.
The sweet, giving spirit of Eleanor Hayes was evident in her giving to North Greenville and to those in her neighborhood. She cared deeply for others.
When asked what Eleanor Hayes would have advised a group of college students as they walk through the rollercoaster of life, her son, Joe Hayes Jr. said, "You can always have joy, no matter what you're going through if you know the Lord. And she never lost that joy or got bitter. Start young, trust in the Lord. You're going to have things happen in life that seems unfair and maybe even tragedies. But you serve the Lord, he will never leave or forsake you. He will give you the joy and contentment and peace in life that you can't find anywhere else."
Eleanor Hayes is not just a name on a building for North Greenville. She is an example of how to love others well, strive for joy and trust in the Lord when life takes sudden turns.