Entertainment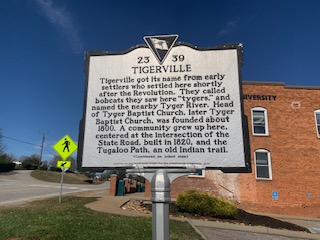 The history of home: Tigerville before the Crusaders
Savannah Williamson, Staff Writer
The time has come for a new history lesson, but it's a Tigerville edition.
If you listen hard enough you can faintly hear the rough sounds of building and the smell of fresh cut wood. The distant clang of the steady hammer-falls of a blacksmith and the noise of cheerful conversation.
The swoosh of hand-made dresses, the rustle of stained cotton shirts, and the wear and tear of hand mended pants. A horse drawn wagon carries an abundance of mail, and a new shipment of goods is being brought into a newly built general store.
Anyone nearby walks closer to lend a helping hand. Children run around hoping to be lucky enough to be given a piece of candy on shipment day. These people live in a simpler time, without the worries of modern day.
What is this place? And why does it seem to be a memory from a time not so long forgotten? It's the place we currently call home. A distant memory of Tigerville, long before it even had a name.
Tigerville was founded around 1800. Tigerville was settled by settlers who moved down to the south a few years after the Revolutionary War, because they were looking for a fresh start.
Tigerville earned its name from the settlers seeing "tygers" roaming around everywhere. The "tygers" they so mention were just massive bobcats. But they were so prolific, the name was coined, and Tigerville came to be.
Once the name Tigerville arose, the nearby river was named the Tyger river, and later on a Baptist church was established, and named it Tyger Baptist Church. Tigerville also had a cotton gin and blacksmith shop.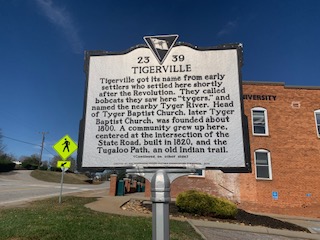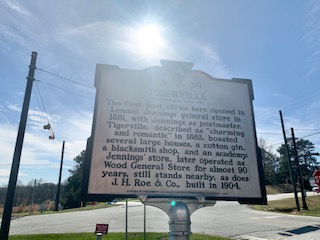 Sharon Stead is the great granddaughter of Benjamin Franklin Neves. The last name should sound familiar, because we have a building on campus named after him.
Neves was a surveyor and a Baptist preacher who donated land to North Greenville. His daughter was Elsie Neves Reese who had Sarah Reese, who then had Sharon Stead. Stead says, "My mother was in her early 90s when we took her back to Tigerville. We spent the day up there and she remembered where everything was. [Where everything used to be]"
Stead also shared some wisdom that her grandmother passed down to her and said, "Love one another no matter what your differences are."

The first road that came to be in Tigerville was laid in 1820. It was the old state road that intersected Tugaloo Path, which was an old Native American trail that once was used by the Cherokee, Catawba, and Creek Native Americans.
The first post office in Tigerville opened in Lemuel Jennings' general store in 1881, with Jennings serving as the postmaster. Tigerville at that time period was acclaimed as "charming and romantic".
Later on in 1883, Tigerville boasted several large houses, and an academy. Jennings' store, later on renamed Woods General Store, has been around for over 100 years. It has currently gone back to its original roots, becoming a post office once again.
J.H. Roe & Co., built in 1904, is still standing, and it used to be Einstein's Bagels. It now serves as the university's marketing building.