Lifestyle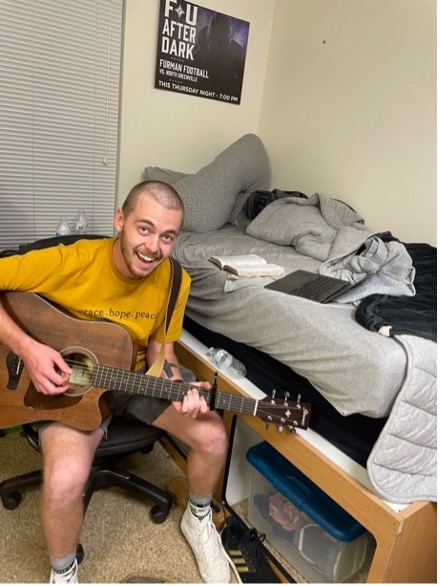 Humans of NGU: Christian Bowers, the man of many ministries
Graham Ford, Contributing Writer
This young man is a true example of what it means to use talents and passion to share the gospel and the love of Christ with others. Christian Bowers is a young man who truly cares for the people around him, and cares for the mission that God has for his life.
Bowers knows that God has placed him in certain places so that he can be a light to the world and share the love of Christ with those around him. He came to North Greenville University in 2020 as a transfer student. From the moment we got here, it wasn't hard to tell that he was serious about the great commission. He joined a small group for freshman and sophomores to help strengthen spiritual disciplines such as biblical intake, prayer, evangelism, etc. He grew in his walk with Christ and started leading impact teams that go out and lead Disciple Now trips.
Now, he has been placed on the Student Leadership Team as the Community leader for the bottom floor of the Martin dorm. In this, he builds community within the dorm, plans and hosts events, and mentors and disciples the students who live there.
NGU's campus isn't the only place Bowers has been called to serve. He also has a passion for the local church. Last year he started an internship at Church at the Mill in Spartanburg, South Carolina. The internship started off as a way he could assist with the Student ministry.
Over time, the internship has changed for him. For a period of time, Bowers got to lead young adults and even teach lessons on divorce. As of recently, the Church at the Mill has him placed in children's ministry. This isn't quite a role he saw himself in, but he knew that it was an area he could serve and where they needed help.
Every Sunday, Bowers fills in as security, and when they need him, he steps in as a children's teacher for Sunday school. Every Wednesday, he serves as a volunteer leader in whatever area he is needed, whether that be teaching or just being an adult chaperone for the students.
Bowers is also passionate about mission work. He has spent a summer in Utah working as an evangelist. He mainly worked in Ogden, Utah, but would occasionally travel to other parts of the state. His job was to initiate conversations with people and share the gospel with them. "One particular conversation comes to mind when I think about my summer. I had a conversation with a barber named Rhett. For 45 minutes we talked about life, religion, and a person's simple purpose in a community. Though he never accepted Christ, I was able to share the gospel twice with him and give him a connection to a local church," said Bowers.
Outside of his evangelism, he helped produce a church plant profile for the northern part Ogden. He plans to return to Utah at some point to continue his ministry and to also visit the people he met in his time there.
Outside and inside of these different mission fields, Bowers is also musically gifted. He has led worship for the Disciple Now trips he has been on, and for a mock church plant he once ran. He leads on vocals and acoustic guitar. Occasionally, he applies his musical talents on the cajon, also known as the box drum.
Bowers takes the places and positions he is in and applies his knowledge and talents to bring glory to God. He understands that life is not about him, and that is shown through his passion for spreading the gospel. Bowers ended the interview by saying, "I believe the Lord gives us different gift ad talents to be used for his glory, and who am I to decided where God choses to use me. I want to be available to the kingdom so that it may grow."